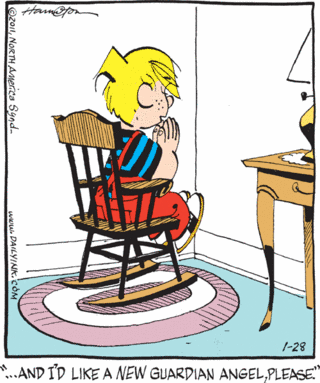 Here we see Dennis being particularly menacing… by praying? But he's praying for a new guardian angel! That's not really menacing though, just unconventional.
Why does he want a new guardian angel? Presumably it's because he's in time out. Maybe he got caught doing something… menacing? Maybe he's not in time out though. Maybe some horrible accident caused him to lose the left side of his face, in which case it's pretty reasonable to request a new guardian angel.
On an unrelated note, that really is a terrible place for a rug. Who puts a rug in the corner of a room? The feng shui in that room must be horrible… no wonder Dennis accidentally tore half his face off (Does feng shui work that way? I have no idea)
Final verdict: It's also a terrible color for a rug! A purple rug on a blue carpet? Someone get an interior designer in there, stat!