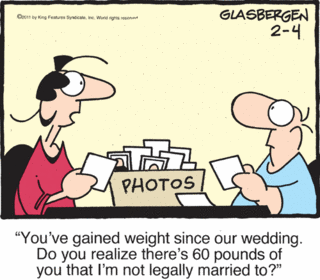 I'm not an expert on marriage, but I'm pretty sure it doesn't work that way.
What is the wife's point here? Is it that she wants her husband to lose weight? That seems to be too obvious. No, I think she's afraid of living in sin with that extra 60 pounds. She'd get remarried, but I don't think you can just marry excess weight. And is that considered a form of bigamy?
She's left with very few options. She can't just marry the 60 pounds of fat and her husband's plans to lose weight probably aren't very effective. It's clear that her only choice is to murder her husband in his sleep. That might be extreme, but she's so afraid of being with someone (or part of someone) that she's not legally married to that she's become desperate.
Final verdict: I really don't think marriage works that way