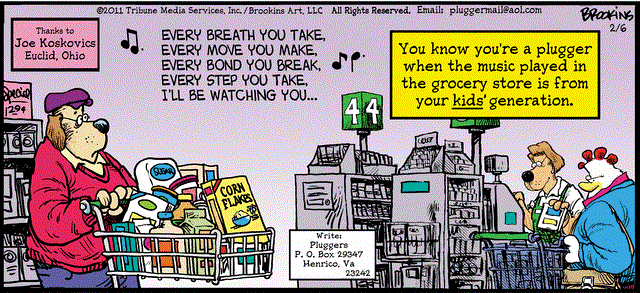 First of all, this isn't even a joke. Is it supposed to be funny? What's the punchline? I obvious don't expect much from Pluggers, but this strip takes it to a new low.
I've never been quite sure what a "Plugger" is. I used to think it was a nice way to say redneck. Then I thought it was a middle America, blue collar, Joe the plumber kind of person. There was even a time where I was confident Pluggers were a race of half human, half animal hybrids living in a sterile lab somewhere in the Pacific Ocean. Now? I don't know… a Plugger is middle aged? Is that it?
I'd like to believe there's some kind of deeper meaning here. A hidden message. Upon closer investigation, it appears that Earl (the dog in the beret) seems to be staring directly at the lyrics.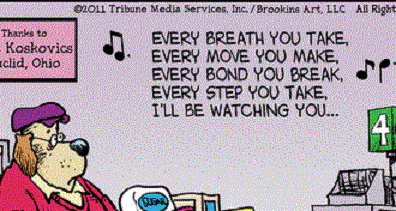 His eyes are wide with fear as he sees these ethereal lyrics floating above the checkout aisles. Is he going insane? Is it a message from God? The choice of song here is interesting… Earl knows that everywhere he goes, he is being watched. I might be going out on a limb here, but I think the only correct interpretation is that Earl is dying and will soon be facing judgement. But, Earl lives a drab, dull life, free from any sin or temptation so what's he so afraid of? Maybe he's afraid that he's wasted his whole life; he's going to die without ever once knowing true excitement or pleasure. Earl's never done anything worthwhile, and after he dies, no one will even notice he's gone.
Final Verdict: You know you're a Plugger if you have an existential fear of death.