I'm back, bitches!
That's right, your friendly neighborhood Spider-Dan is back and ready to review! The world has become… let's be nice and say interesting, lately and there's a ton to discuss. And, more importantly, to review.
So that brings us to today's post. I'm sure you've all been eagerly following the current arc of the newspaper comic Mary Worth. (You have been right? I can't be the only one). Even though I'm 100% positive that you have been, I'll recap. Just for fun.
Mary Worth has recently been following the adventures of college student Dawn Weston. She's becoming fast friends with her professor Harlan Jones. They take yoga together, they go to museums, she visits his house. She says "he's just a friend". But, let us never forget the immortal words of the philosopher Biz Markie: "Don't ever talk to a girl who says she just has a friend." Wise man, that Biz Markie.
Here's the thing. Mary Worth is an EXTREMELY conservative strip. It's not scandalous in any way, unless you count Mary trying to get her friends to commit suicide. (No, really. She's kind of psychotic). For these students to come right out and accuse Dawn of sleeping with her professor for grades is, frankly, amazing.
Because, let's be honest: She's not dating him for grades. She just can't resist this face: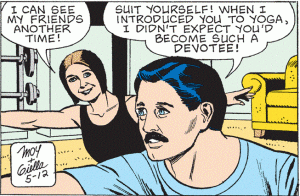 Final thoughts: Dawn's not whoring herself out for grades. She just likes mustache rides. Ain't no shame in that.